Scorching the Skins with Jack Costanzo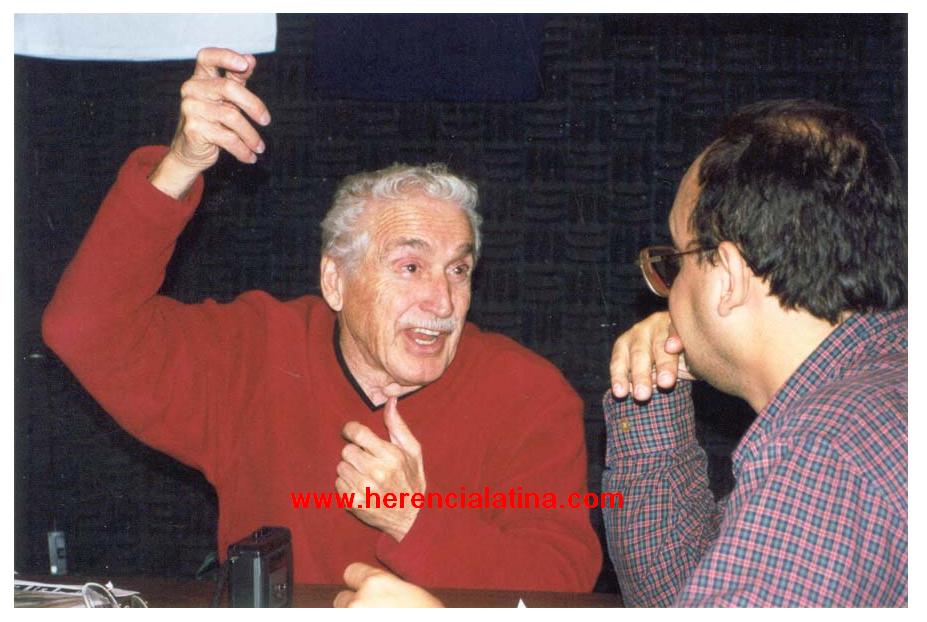 Jack Costanzo and Erick González. Photo by Bruce "Chuck" Brewer
By Eric E. González
Founding Member of Herencia Latina.
Interview photos by Bruce "Chuck" Brewer
Interview conducted February 16, 2001 and November 28, 2005.
Jack Costanzo has lived a great life; he has truly lived a great life. And, in the process, he has left some great music.
Born September 24, 1922, in Chicago, Illinois, Costanzo was attracted to Latin rhythms at an early age. His weapon of choice since then has been the bongos and, later on, the congas. But it is his work with the bongos that made him famous, because it has been said and it is widely known, that he made the bongos popular in the United States. He was so influential, that the late jazz critic Leonard Feather nicknamed him "Mr Bongo," which he proudly carries as a badge of honor.
While it is true that there were many other musicians playing the bongos throughout the United States at the time – particularly in the afrocuban music circuit —, Costanzo was active and willing, learning the chops in both the jazz and Latin music arenas. It was Jack's work in Hollywood that brought the image of this very particular percussion instrument to homes, via movies and TV shows. In fact, it is very likely that the bongos that you hear in TV shows and Hollywood movies from the fifties and sixties are those of Jack Costanzo.
An amazing fact in Costanzo's life is that he is self-thought in the art of playing afrocuban percussion. As he said, nobody was willing to teach this young man of Italian descent how to play the bongos, which at times frustrated him. He learned by himself and, despite this, he was able to perform and/or record with Lecuona Cuban Boys, Nat King Cole, René Touzet, Perez Prado, Stan Kenton, Ella Fitzgerald, Frank Sinatra, Xavier Cugat, Peggy Lee, Frances Faye, The Supremes, Ann Miller, Henry Mancini, Buddy Cole, and many, many others.
Jack also left a huge footprint in Hollywood. His impact in tinseltown was so enormous, that he was named "the bongo player to the stars." And it had to be that way, because his talent for teaching how to "scorch the skins" was in demand by movie stars, like Gary Cooper, Carolyn Jones, Rita Moreno, James Dean, Jack Lemmon, Hugh O'Brien, Van Johnson, Betty Grable and others. But, perhaps, his most famous movie association was that with Marlon Brando, with whom Costanzo spent many hours jamming at movie locations or at Brando's house. Brando was already a percussionist before meeting Jack, and was a frequent visitor to the Palladium when it was at its peak.
Costanzo appeared in many TV shows, such as Edward W. Murrow's "Person to Person," Colgate Comedy Hour, Johnny Staccato, Dinah Shore, Perry Como, Ed Sullivan, Shower of Stars, Red Skelton, to mention a few. He also participated in the soundtracks of and / or acted in films like "Harum Scarum," with Elvis Presley; Orson Welles' "Touch of Evil;" "The Delicate delinquent," with Jerry Lewis; "Stool Pigeon," with Red Skelton; and others. His bongos can be heard in the soundtrack of the TV show "Mission Impossible." When it comes to working in Hollywood, the list can go on and on.
His recordings are also important, and they may surprise many a few. They range from salsa and Latin Jazz groups, to big band sounds similar to those of Machito, Tito Puente, and Tito Rodriguez.
I was able to interview Jack Costanzo while he was promoting the exciting "Back from Havana." Sometime later, he released the equally energetic "Scorching the Skins," both for Ubiquity Records' Cubop label. To my surprise, during the interview, I discovered that his singer, Marilú, is a fellow Panamanian.
Jack has so many stories to tell, that he leaves you craving for more. He is a great storyteller, and he truly represents a bridge between the splendorous past and the tortuous present of afrocuban music. Yes, sir, Jack Costanzo has lived a great life.
Acknowledgements: My gratitude to José Rizo, for allowing me to use his popular radio show to interview Jack Costanzo and Marilú Murillo. Thanks also to Ron Moore, for providing some of Jack's recorded material, and Bruce "Chuck" Brewer, for the photographic work. Of course, I am grateful to Israel Sanchez-Coll, for the time-consuming job of making sure that this interview looks good to the eye.
Interview
Eric E. González (EEG): Tell us about your beginnings in Chicago.
Jack Costanzo (JC): I became a dancer; I was a dancer at a very young age -- 14 years-old, actually --, and I used to dance at a ballroom called the Merry Garden Ballroom, in Chicago. They had two ballrooms: in one, you had to dance very straight-ballroom dancing, and in the annex you could do anything you wanted to do. But they brought a band from Puerto Rico, called the Mario Dumas Band – it was famous in Puerto Rico, I didn't know this. The drummer sat in on bongos on one number, and I looked at this, and became entranced with the bongos. So, I made myself a pair of bongos out of butter tubs, and I taught myself to play.
EEG: And that gentleman was your main influence.
JC: Yes, he was the reason that I started playing bongos, by watching him play. I know now, that he was not a very good bongo player, but he was a very good drummer. It was flashy to have him up there, and it was great; I loved it. That was the first time that I saw a pair of bongos, in person.
EEG: Tell me more about how you built those bongos.
JC: With butter tubs. Butter, in those days, came in a tub, wooden, like a barrel, only smaller. I cut them down to make bongos.
EEG: And what skins did you use?
JC: Bass drums heads, from a regular drummer. (LAUGHER) And there were no bongo players, and nobody to teach me. I did have a couple of [Xavier] Cugat records and Casino de la Playa, and I tried to hear the bongos there, to play. But there was nobody to show me what to do with my hands. So I developed my own technique. Then I became a dancer — a professional dancer —, and I became a rumba dance team. And when my partner would dance solo, I would follow her footwork with the drums. I would do the different beats, and that's how you learn to play bongos.
EEG: But you were still in Chicago, right?
JC: Yes.
EEG: Who taught you to dance rumba?
JC: Nobody. Everything was self-taught.
EEG: What happened next?
JC: I danced and went to the service (military). When I came back from the service, I taught dancing at the Beverly Hills Hotel, in Beverly Hills.
EEG: So you moved to California.
JC: I was discharged [from the service] in 1945; I was discharged on the West Coast, so I stayed. I was up near San Francisco, and I came down here. I worked for about 3 months teaching dancing, which I hated. (LAUGHER) Then Bobby Ramos, who was a well-known band leader those days, put together a big band and they were going to open the famous "Trocadero." But he had no bongo player. So he heard about me, you know, that I could play a little bit, and he hired me. That was my first job. That was in January 1946. That is how I got started as a musician. But I also kept dancing in-between jobs!
Then, I went to Lecuona Cuban Boys. I went to New York with them, to the "Copacabana," at the end of 1946. And I came back to Los Angeles, and went to work with the René Touzet band. And when I was with Touzet, Stan Kenton came in and heard the group. He was looking for a bongo player. He had been auditioning bongo players in New York, and they were not the style that he wanted for his band. So, he thought I was, and in the intermission he hired me! René let me go, and I joined Stan Kenton immediately.
Lecuona Cuban Boys Orchestra: Jack Costanzo on bongoes.
Hollywood. 1946.
William P. Gottlieb Collection
EEG: Did you record with the Lecuona Cuban Boys?
JC: Yes. I remember one song (PROCEEDS TO SING), "Oye mi chancleta…chancleta…" I did about four songs with them.
EEG: Did you record with Rene Touzet?
JC: Oh, yeah, a couple of albums.
EEG: I don't mean to be offensive, Jack, but, did you get any negative response or envy from the Latin musicians? You know, you, being white, taking their jobs. Was that a problem?
JC: No, the problem was for them! (LAUGHER BY JACK) No, they were not happy that Kenton hired me. They were nor happy that Nat King Cole hired me. But when they asked Nat about it, Nat said, "I got the person I thought to do the best for me." And that was a good answer.
EEG: Did you, during your early years, looked for advice of a Latin conga player to improve your technique?
JC: There was no one that would teach me anything! Ever! No matter where I was, nobody would show me one beat. And I was very bitter about that. There was no conspiracy, but it was like there was, because no one would show me anything. When I joined Kenton, I had only been playing a year and a half! Nobody was going to show me anything. I had to do everything by myself! It was not easy for me. And I don't need sympathy, because I did well. But if I would have not been a natural drummer, it would have been impossible.
EEG: It's hard to talk about this, because I can imagine how the environment was for you during that time. Did your relationship with Latin musicians improved during the years?
JC: In later years, like with Bobby Matos. Tito Puente always called me the "king of the bongos." It was with other musicians I had problems with, not the leaders.
EEG: Now, here's another difficult, perhaps controversial question. About the same time that you were playing with Kenton, I believe Chano Pozo was playing with Dizzy Gillespie. History says that Pozo was one of the first, if not the first, that incorporated Latin percussion in jazz. But some people say that you were the first one.
JC: Yes, I was. I introduced bongos into American music. Chano didn't play jazz. He played in a jazz band, but he didn't play jazz. Dizzy would play numbers that were appropriate for Latin drumming. I saw Chano. Chano was awesome, but he didn't play jazz. He could only play the numbers that fit. He started to play on the jazz numbers, and Dizzy told him, "No, you can't play in that style. You can't go (JACK PLAYS ON THE TABLE), 'Takitucu, takitucu, takitucu,' when jazz is going, 'Chun, chat, chunchun, chat…'" Didn't fit! So he played on those kinds of numbers that were appropriate for him. And he excelled, he was marvelous!
EEG: Did you play congas with Kenton, too?
JC: Yes, both.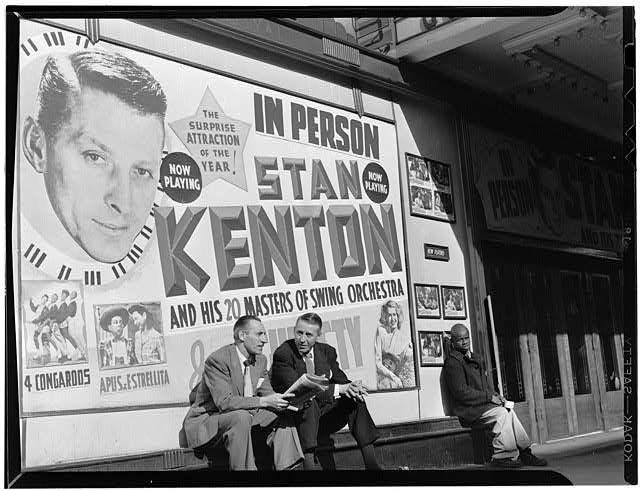 Stan Kenton. William P. Gottlieb Collection
EEG: If what you are saying is true, then you developed the technique to play bongos and congas in jazz. How did you do that?
JC: I don't know if I developed the technique, but I developed the feeling of jazz. If you mean hand movements techniques, no, I don't think I developed that. What I did was, show people how they can use the bongos and conga drums in jazz, playing with a jazz viewing rather than a Latin feeling.
EEG: What else you remember about Chano Pozo?
JC: Not very much. I went to see him with Dizzy Gillespie at the Savoy Ballroom in New York. I saw him play and I noticed that he didn't play on the jazz thing, but when I saw him, I was amazed – he was so good.
EEG: Where you ever offered to play with Gillespie?
JC: No. When Chano was killed, I was with Stan Kenton. That was in December of 1948. Kenton broke the band that same month. Then I went on vacation to Miami, and Nat King Cole was looking for me, and I joined Nat the beginning of February of 1949.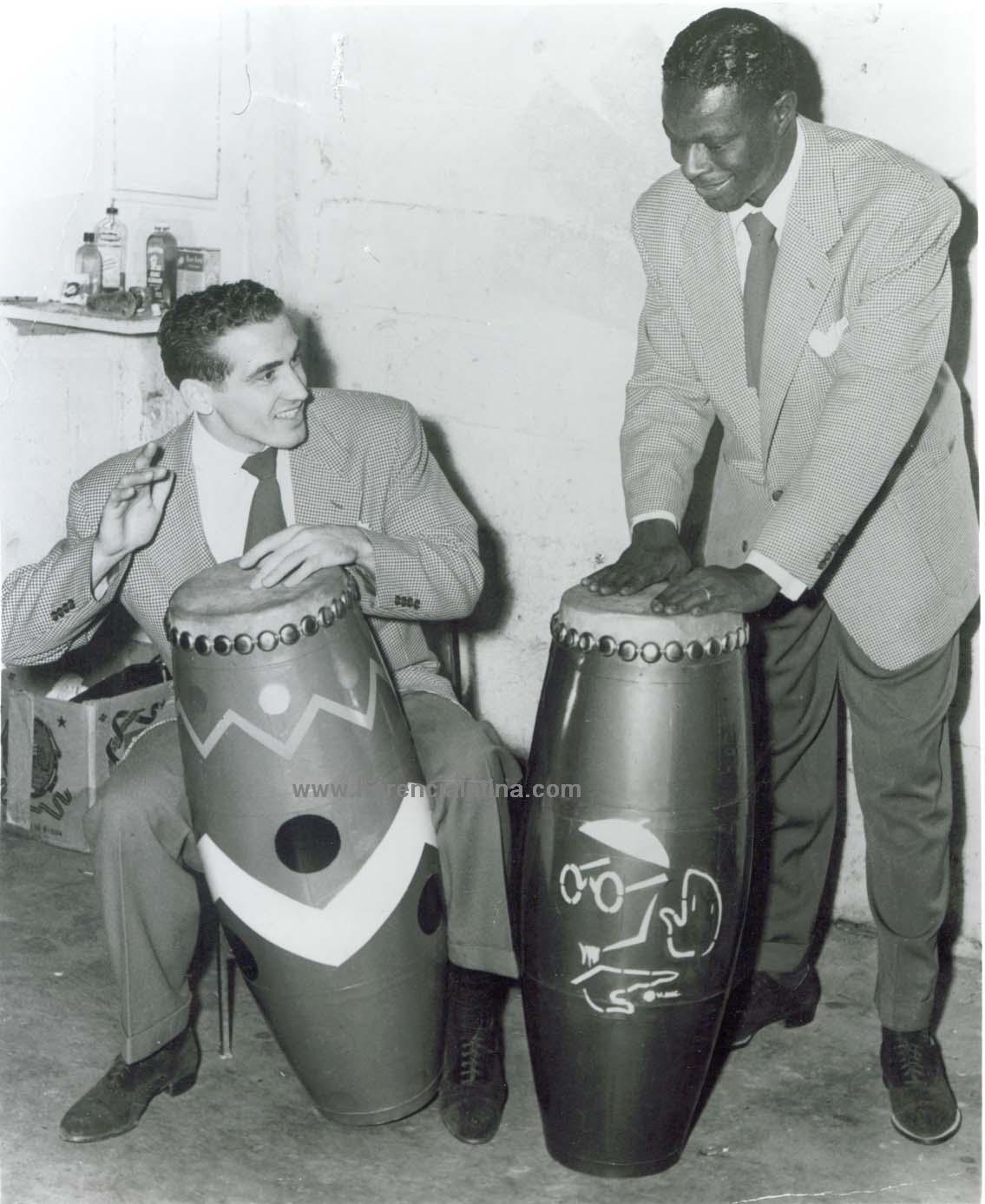 Jack Costanzo and Nat King Cole
EEG: It is interesting that Nat King Cole presented his group as "Nat King Cole, featuring Jack Costanzo." Why did he do that?
JC: Well, you have to remember that, when I joined Nat King Cole, I was a very, very well-known musician. I mean, very well-known! And he took advantage of that. But that disappeared eventually, and it became Nat King Cole and the Trio, meaning four people, instead of three. It was not always Nat King Cole, featuring Jack Costanzo – that was only at the beginning.
EEG: I was reading about Nat King Cole, and he really had to take a lot of crap from many people.
JC: When I joined Nat, we toured with Woody Herman, and we did Carnegie Hall. That was great. Then, after that, we went down and did a southern tour. And that was terrible. The discrimination was just terrible, terrible, terrible. It got so bad, that I started staying in black hotels, with African Americans, because I felt uncomfortable being in a nice hotel, and Nat was not in a nice hotel.
EEG: Nat King Cole, being a crooner, what did you do for him? Was he looking for a Latin sound?
JC: No. He wanted me to play when the trio played, and that was jazz. And that's what I played. But he wanted that sound.
See, Kenton wasn't looking for a Latin player to play Latin with him. He wanted the sound of the bongo. If that [was the case], he would had hired the guys that he auditioned in New York! You know, I was a beginner. They all knew more Latin drumming that I knew, but I felt how to play for these people.
EEG: So your bongo playing was not necessarily afrocuban all the time.
JC: I didn't play it on the jazz tunes as a Latin instrument. When we did the "Peanut Vendor" or "Cuban Carnaval", then I played with a Latin feeling. But Kenton was mostly, mostly non-Latin.
EEG: Was there somebody that served as a model for you to play bongos in jazz?
JC: No, because I was the only one! (LAUGHER) Nobody taught me to play ever anything; I would have been grateful if they did! They ignored me! (LAUGHER)
EEG: Tell me more about playing with Stan Kenton.
JC: It was a thrill playing with Stan's band, an absolute thrill! The musicians were so great and the music was so futuristic – very futuristic. As you probably know, if you play something now that we recorded in 1947, it will sell like it belongs in 2001. And he was marvelous, always looking for something, always ahead. He never told me what to play.
EEG: Did you have any input in the band?
JC: Oh, sure.
EEG: Remember any of your fellow band members?
JC: Very well! Conte Candoli, Buddy Childers, Shelly Manne, Eddie Safranski on bass, Laurindo Almeida on the guitar, Bob Copper, Art Pepper… I remember them all very well – marvelous musicians!
EEG: About that time, jazz citric Leonard Feather named you Mr. Bongo…
JC: I was at the train's platform in Philadelphia. We – the group – were going to come back to New York. And, at the other end of the platform, was Leonard Feather, yelling out, "Hey, Mr. Bongo, come here!" (LAUGHER) That's when I got the name!
EEG: When was that?
JC: 1947.
EEG: I understand that you played with Charlie Parker.
JC: I jammed with Charlie Parker at the Birdland.
EEG: And Dizzy Gillespie.
JC: Oh, many times with Dizzy!
EEG: Do you remember the year?
JC: Well, I was with Nat King Cole – 1949, 1950, 1951… Dizzy had a small group then, and whenever we toured, and we were in the same city, we would always be done before he was, because Nat did shows. So I would go with Dizzy and sit with him. And I always had a marvelous time!
EEG: How about Lester Young?
JC: Lester Young? Oh, yeah! (LAUGHER) I played with Lester Young at the Birdland. Birdland on Monday nights was a jam session night. Now, that doesn't mean that anybody in the world could come and sit in. It meant as professionals, at a jam session. Let see… Lester Young, Charlie Parker, Fats Navarro, Curly Russell, Percy Heath… All those kinds of players were playing there.
EEG: Did you ever play at the Savoy?
JC: No. I played in Harlem, but worked at the Apollo Theater with Kenton, and twice with Nat King Cole.
The Apollo - New York Cubabop City. William P. Gottlieb Collection
EEG: Did you ever play in the Palladium in New York?
JC: Yes, I worked there with Nat King Cole, in 1950.
EEG: Did you ever share the bill with Tito Puente, Machito, or Tito Rodriguez?
JC: No, but I sat in with them many times. Tito Rodriguez was a dear friend of mine. I had some of my best jam sessions with Tito.
When I went to Puerto Rico, I went back with a Latin band for one engagement in 1968. I put a band together – a marvelous band --, and we went to play at El San Juan Hotel, in Puerto Rico. And Tito was there almost every night, loved the band. He was building a house there. I understand that house started a year before I got there, and when I left, they were still working on that house! (LAUGHER BY ALL) I hope they had it built; I don't know! Tito was very well-respected all over, but in Puerto Rico he was an idol.
EEG: Who do you like most of the three Palladium Gods – Machito, Puente or Rodriguez?
JC: I like them for different things. From Machito I like the big band; he was the best big band of that time. Tito Puente was more "showy." Tito Rodriguez was strictly a dance band, and marvelous. If you ask me who I like better, I don't know.
EEG: Tell me about Perez Prado.
JC: Marvelous, marvelous band. Nat Cole developed bleeding ulcers. In fact, we were at the Carnegie Hall and he couldn't finish the second part of the concert; they had to take him to the hospital. So we were off for two and a half weeks, I think. So I went back to the west coast. Perez Prado heard that I was off, and he hired me to join the band on a tour that he was doing for about 12 or 14 days. And I worked with him, with Modesto Durán on the conga drum. And we had a marvelous time!
He was not a hands-on leader. You know, "Do your job, and that's all I care about." (LAUGHER)
EEG: And Miles Davis?
JC: I played with him in jam sessions at the Birdland. I never worked with Miles Davis and his band, but he came in and sat in, just like all the other guys did at Birdland. I got to play with a lot of people – Bud Powell, Lester Young, Charlie Parker, Dizzy Gillespie… We had lots of sessions together!
EEG: But Miles was known for his particular attitude.
JC: He was not very happy with what he called "white people stealing the black people's music." He was very unhappy about it.

EEG: Let's talk about your work in Hollywood. You were referred to as "the bongo player to the stars." How did that come about?
JC: I had no idea who did that. (LAUGHER) I taught I lot of movie people to play bongos, and some congas, like Gary Cooper, [who] I taught conga drums.
EEG: Gary Copper? Man, I can imagine Marlon Brando doing it. And James Dean, who it is said tried to copy Brando in some things, but…Gary Cooper? How did that happen?
Con Marlon Brando
JC: I have no idea. It was the most… It was the strangest thing! I never taught Marlon, by the way. Everybody thinks I taught Marlon Brando. I never taught Marlon how to play. He knew how to play before I met him!
EEG: He wrote in his autobiography that he liked going to the Palladium to see Puente, Rodriguez, Machito, and all those bands.
JC: He and I probably jammed hundreds of times, even when we were on the set for "Guys and Dolls." Some of it is in soundtrack of the movie. Every time there were five minutes [of waiting], we ran to the dressing room and played. (LAUGHER) He was really a drum addict.
EEG: Did he have the beat?
JC: Oh, yeah. For a non-professional, he was a good player.
EEG: I understand that you did a TV show – the Edward R. Murrow Person to Person Show – with Marlon Brando, and that both of you jammed together.
JC: I was doing the concert with Nat King Cole at the Carnegie Hall, and someone came up to me on the break, and said, "Marlon Brando is down at the stage door, and he wants to meet you." Nat got sick and we couldn't do the second part of the show, so I went down and I met him, and we exchanged phone numbers. And then, when I went back to Los Angeles, we became dear friends.
He was on the "Edward R. Murrow Person to Person show." Edward R. Murrow went to celebrity houses, and he interviewed whoever the celebrity was, and they talked. Well, Marlon was picked to do it – they timed it, so it was two days after he won the Academy Award for "On the Waterfront." And I was Marlon's guest on that show, and we did a jam session. From then on, we were very good friends.
EEG: Was it Marlon and you playing the drums?
JC: Yes, we were both playing on it. It was done for CBS.
EEG: Did somebody else join you at Marlon's house for jam sessions?
JC: We jammed many times at his house. I know that I went to a party in his house for Edith Piaf, who was a famous French singer. He invited me there, and there [was also] a Cuban pianist named Facundo Rivera. Marlon rented that house from a movie actress named Ann Miller.
Jack Costanzo and Erick González. Photos by Bruce "Chuck" Brewer.
EEG: Any story from your time with him?
JC: Well, he was always a person for causes, you know, like the Indian cause, or nature. He was always that way, but I don't know if I got inside Marlon Brando -- I don't believe I did.
EEG: How did Gary Cooper got hooked on your music?
JC: I don't know – the surprise of my life! They used to come and see me play, when I had my band. And then, one day, Rocky – his wife --, called me and says, "Guess what? Gary wants to learn to play the conga drums." And I laughed, you know, because he was such a shy person. I was very excited that I could do it. I never thought on him very much, because he was not adept in playing conga drums. In fact, they had a party in Gary's house, and they invited me there – they used my band, but I was just, you know, a guest. And I couldn't get Gary to sit in with the band at all.
I walked to go to the men's room, and, on the floor, in the corner, there is Gary with the conga drum. (LAUGHER) Nobody could see him, and he was like (IMITATES CONGA SOUNDS), "tap, tap, tap…"
EEG: How about James Dean?
JC: I gave him two lessons, and I gave up.
EEG: He couldn't get it.
JC: No, he couldn't get it. I think that what you said it's true; he wanted to do conga drums, because Marlon was doing conga drums. But it was not in him to be a conga drummer. But I never called him to take a third lesson. (LAUGHER)
EEG: You also taught Carolyn Jones, "Morticia," from the "Addams Family." How did that happen?
JC: She was going to do a movie called "A Hole in the Head," (1959) with Frank Sinatra, and Frank Capra, who was the producer, wanted her to play bongos in one of the scenes. So he hired me to teach Carolyn Jones to play bongos. I gave her eight lessons, and the talk circuit in Hollywood was that Frank Capra, everywhere he went, said, "I am paying this Italian bongo player a thousand dollars to give Carolyn Jones eight lessons!" He couldn't stand it! (LAUGHER)
EEG: That was a lot of money at that time. I bet that it was a fun experience. She was sexy.
JC: Oh, Carolyn was ball. In fact, there is a marvelous picture in one of the magazines in those days – I don't remember what we were saying --, but you can see that we were busting up, laughing. I saw the movie, by the way. She did about 3 seconds on the bongos. (LAUGHER)
EEG: Another important contribution of yours was your work in the film "Touch of Evil," from Orson Welles.
JC: Yes, I did the soundtrack.
EEG: Did Orson Welles look for you?
JC: No. Henry Mancini looked for me. I did a couple of things with Henry Mancini, and he hired Shelly Manne, Chico Guerrero, and I for that same soundtrack. As it came out, the soundtrack was marvelous – I loved it!
EEG: Tell me about your appearance in the Ed Sullivan Show.
JC: I did the Sullivan show with Nat King Cole – twice. And then I did it once with Ann Miller. And I did the Dinah Shore Show with Ann Miller, where I was featured with her. It was a marvelous number that she did. We did a little challenge back and forth. Never got to see it; I'm still looking, with the hope that I can find the tape. She was a famous movie star and dancer.
EEG: Jerry Lewis.
JC: One of the best soundtracks I have ever worked on was his picture. They were Buddy Bregman arrangements, on a picture called "The Delicate Delinquent" (1957). Oh, I loved that soundtrack – the first five minutes, when he's coming out with the garbage can. Oh, and the music is cookin', burnin'…Oh, yeah!
EEG: How did he approach you?
JC: He contacted the contractor, and said, "I want Jack Costanzo."
EEG: You also worked with Desi Arnaz.
JC: We were friends, but I only worked with him one time, when he was with Bob Hope. I had other jobs, so I didn't stay with Desi.
EEG: I read that you did the bongo for the "Mission Impossible" TV series song.
JC: I did a "Mission Impossible" segment. I don't know if I was the one that was there every week, and if they used the same one. I don't know that. I did the music, but they may have recorded it more than once.
EEG: Where you Lalo Shiffrin's original choice to play the bongos on that tune?
JC: I don't know if he picked me or if someone else picked me.
EEG: Did you get to interact with all the movie stars you worked with?
JC: Some of them, we were together, you know, like "Johnny Stocatto," a TV series, which starred John Casavettes. I had a sequence there.
EEG: You worked in some famous clubs in Hollywood. What do you recall about those wonderful years?
JC: Well, I worked at the Trocadero with Bobby Ramos, and I worked at the Trocadero with the Lecuona Cuban Boys. That was "the club" during those days. With my band, I worked in the Mocambo, and Ciro's, which were very well-known. I did very well in those clubs.
EEG: I understand that you also played with Ella Fitzgerald.
JC: Yes, but I never toured with her. I just did recordings with Ella Fitzgerald.
EEG: And The Supremes?
JC: There was a man named Eugene Page, an arranger in California. He was the first guy that used conga drums and bongos in contemporary music – rock --, and he heard me. A lot of times, I didn't know who [I recorded for], because a lot of times the vocals were put on later. But he did tell me one of them was The Supremes. I did one with Bobby Darin. But he was there, so I knew that I was doing one for him.
EEG: Can you talk about your experience with Frank Sinatra?
JC: Oh, I knew Frank from years, and years, and years! I mean, we didn't double-date or anything, but it was marvelous working with Frank. I did his CB show, I recorded "I'm going to live until I'll die" with him… I saw him in Miami several times. I was at the Eden Roc and he was at the Fountainblue, which were next door to each other, and he sent an invitation. I was working with Frances Faye. And he sent a guy over that said, "Can we borrow the bongo drums, Jack, because Frank is going to do a parody of you and Frances." And I said, "Yes, you could, except that we are out in five minutes." So they thought something, and we went to see his show afterwards. He had reserved us a seat; it was packed! And he introduced us to the stage – that was kind of exciting.
Frances Faye let me stretch out, and play more than anybody. I went to Europe with her twice. I was able to play, play, and play with Frances Faye. We worked in a place called The Interlude, which was upstairs from the famous Crescendo, and we were there for weeks, weeks, and weeks. It was the most exciting engagement that I ever had.
Jack Costanzo and Erick González. Photos by Bruce "Chuck" Brewer.
EEG: What band leaders were your favorites and were of big influence?
JC: Nat King Cole and Stan Kenton were marvelous. I can tell you that I have never met anybody nicer than the two of them.
EEG: And in afrocuban music — then and now?
JC: If I want to hear Latin Jazz now, and feel in that mood, I like Chucho Valdés. Los Van Van is my favorite band — to me that's the greatest band in the world.
EEG: Really? Why?
JC: Because that's the quality! It gives you everything — three all-star singers; every one of them can be a star in another band. Without a question! It has a sound that's unbelievable, it has so much rhythm going, and they are so exciting! My God, I have never heard a band like that.
EEG: You have been banging the drums for a long time. How do you keep your hands in shape?
JC: I don't know. People asked me that before, Eric, because I seldom have any very many calluses. I just think that when I had to teach myself to play, I came out with a technique that just happened to work out that way. So, if I work two or three days in a row now — hard – I'm going to be putting tapes on my fingers, because I don't work a lot.
EEG: Did you ever endorse a particular percussion brand?
JC: I had the original bongos for Balje Drums shops. They called them the "Costanzo Bongos." That company was taken over by Latin Percussion
EEG: It seems that these days you favor the conga over the bongos.
JC: It isn't that I favor it, it's more appropriate for what I'm playing. It's a rhythm instrument. Bongos are the salt and pepper of a rhythm instrument. Conga drum is the rhythm!
EEG: Let's talk about your first album as a leader. I understand that it is "Afro Cuban Jazz North of the Border".
JC: Oh, yeah. It's a jazz album.
EEG: How did that album came about?
JC: It's very strange. A friend of mine, Leo Silverman, had a home-recording unit, and he came to the club to hear us — I had a marvelous band: Zoot Sims, Gerald Wiggins, Joe Comfort, Herbie Steward… a marvelous band. Anyway, he came and he recorded the band live, you know, out of the air! There was no quality to it, and I took it to Norman Granz. I said, "Norman, here's my band, I want to record." And he said, "Let me hear how the band sounds." And he heard this tape – like I said, is a homemade tape —, and he said, "Let's release that!" (LAUGHER) So he released it! But I had another help; Jerry Wiggins on the piano helped me a lot! And Bill Holman gave me a couple of Gerry Mulligan's arrangements. One of them was "Bottlabud" and Jerry Wiggins wrote a tune called "G & J Blues." They helped me out, because I knew nothing about what to do with the band.
Leo had a music room in his house, and we used to play there all the time. He was an amateur player, but he played well enough, so that we could have fun.
EEG: How successful was the album?
JC: I doubt that it was successful at all. Some of the songs were not very good.
EEG: Which one of all your recordings was the most successful?
JC: "Naked City," from the Liberty label. Probably the biggest selling album that I ever had — I don't know, 70 or 80 thousand albums --, was called "Mr Bongo Cha Cha Cha." That was on Tops Records. Tops Records was a commodity that would sell in supermarkets and drugstores, so you got a lot of sales. It was not a record that was necessarily in a record shop.
EEG: How hard was to sell the music to the crowd of that time? Did you have to dilute it for their tastes?
JC: No. When I played Latin, I played as much típico as I knew how to play, and I didn't dilute it. What I did do, was I left the Latin scene pretty early, and started playing American swing and dance music. And my then-to-be-wife, who became my wife, Gerry Woo, and I, we had like a Las Vegas dance act together. We were entertaining, but you could still dance to our music.
EEG: Gerry, the Playboy bunny?
JC: Yes. Boooyyy! Hehehe. (LAUGHER)
EEG: I read that, I read that! (LAUGHER) She truly had a Playmate-sounding name.
JC: She was gorgeous, she was gorgeous!
EEG: In the CD "Mr. Bongo – Jack Costanzo & his Afrocuban Band," which I have in my hands right now, your two ex-wives and ex-singers – Marda and Gerry -- sing some tunes. The one from Gene Norman, at the Crescendo label.
JC: Oh! because he put two albums together. "La Bamba" and "Cu cu ru curu", those are all from another album. The original album doesn't have those songs. It was a record that he put with another one, called "Viva Tirado." And he took some songs out of there, because in CDs you can put more songs than on the album. So he wanted more songs on there. And a lot of people have complained, because they like the old albums without those songs. I don't know what to do about it.
EEG: Can you talk about Marda? How did she learn to sing mambo?
JC: She just did it herself! She was a singer, you know, with American bands when I met her. But she never sang anything Latin. The band was Carlos Molina's. He was from Bogotá. She would sing with him.
When she joined me, we were a dance team. And then, when I got the band, I said, "Marda, would you do a couple songs?" But she had a nervous breakdown — only lasted two weeks on the job. And then I got a different girl instead of her — Carmen De Oro —, who used to sing with Xavier Cugat, and she had her own band. Very good performer.
Marda passed away 1987. We weren't married then. We have been divorced since 1967.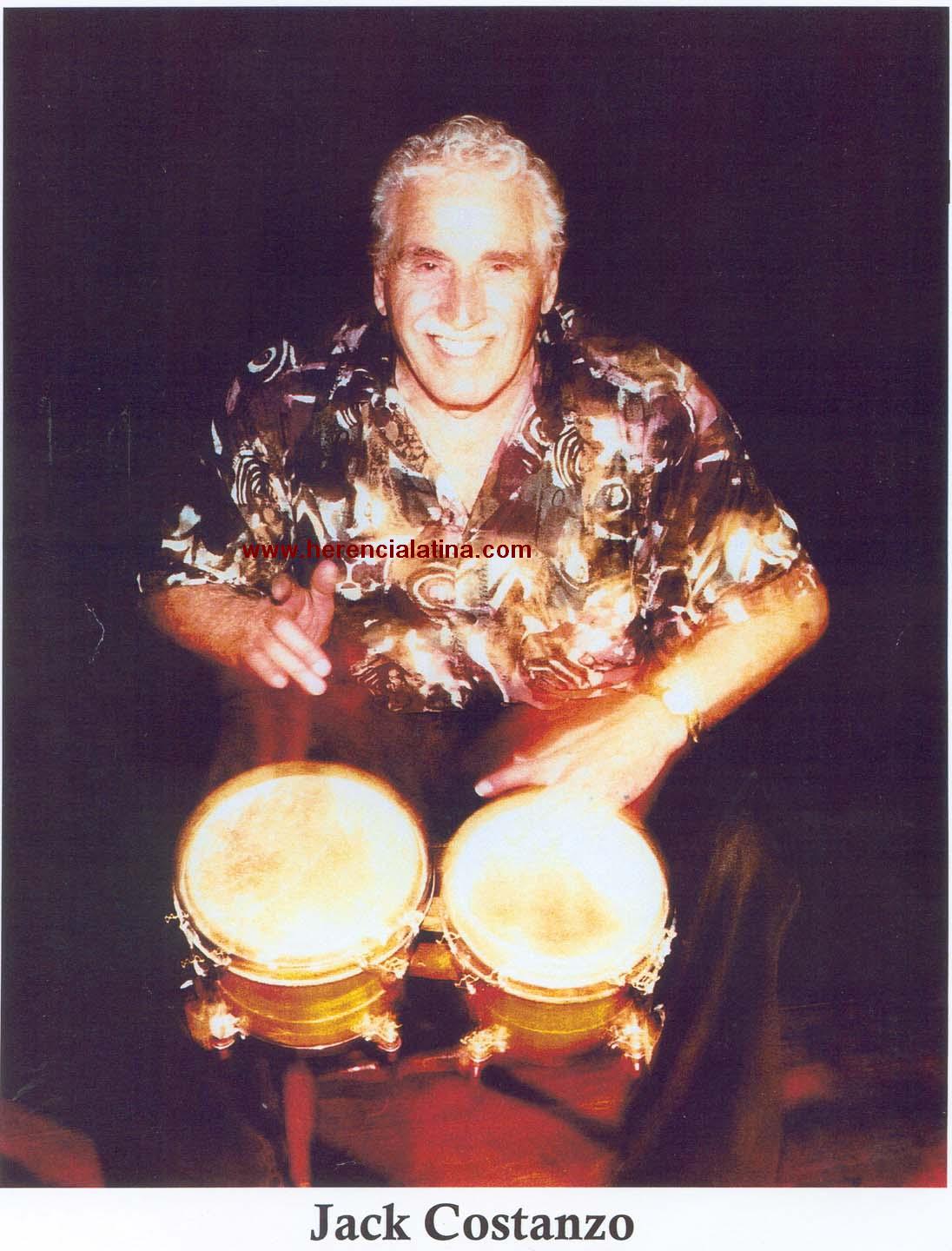 EEG: What can you tell me about the album "Mr. Bongo Plays Cha Cha Cha"?
JC: Kascara sings on that and Marda does "Silencio," a Celia Cruz number. And on "Quiere," she does a background with Kascara. We had fun doing it and Kascara trying to sing in English in that song, "Quiere." He talks a little English, and we just busted up. I can't remember exactly what he said, but he said, "Wow, that's Okay!" (LAUGHER) He just ad-libbed it.
EEG: Tell me about your singer, Kascara. (1)
JC: René Touzet introduced me to Kascara. He is from Cuba; I think he is from Oriente, but I am not positive. He was a very thin guy; he looked like he weighed about 80 pounds (LAUGHER). Marvelous singer and a very nice man. I enjoyed having him in the band. When I met him, I liked the way he sang, and I said that I was going to do a record, and he did that record with me. My former late wife sang a song or two on that particular album, and she used the name Marda Saxon.
But Kascara was a very típico singer, especially in those days, and he really helped made the band sound good with his vocals.
EEG: What happened to him?
JC: I don't know. René about ten years ago said to me, "Kascara died." Two years after that, Kascara called me. (LAUGHER) I told him, "Kascara, you are supposed to be dead!" He said that he has been touring South America, all over, that he takes his own piano player with him, which means he must be doing Okay. That was maybe three or four years ago; he was alive then. I still got his number, but, when I call, nobody answers.
EEG: Any memories about the making of the album "Latin Fever"?
JC: They just re-released that a couple of years ago; it did very well, very well! There is a man that used to be the music contractor for Twentieth Century Fox or Warner Brothers – it doesn't matter. His name was Simon Waronker; he was vice-president of Liberty Records, and I was under contract with Liberty Records. He came to me and said, "I want you to do an album. I don't want any arrangements. You can use songs, but I don't want any arrangements. You just jam in all the songs." And that's what we did. We got together, Eddie Cano and I, and Jay Corre, the sax player, and said, "We will do it this way and that way." But it was an unrehearsed thing. That's what we did. All those songs were done on the spot! And, on that particular record, Eddie Cano has a seven minute solo on "Malagueña." Every time we were going to stop, in the booth was Simon Waronker moving his hand, "Keep playing! Keep playing!" So you hear the record, and there are about four times when you can tell that maybe we were going to stop! And then we keep going! (LAUGHER) His son used to be one of the vice-presidents at Warner, when they had the big record company.
EEG: So it was an improvised album. That's' the reason why it's all instrumental.
JC: We did everything on the spot. No arrangements. On horns, you notice that on different songs I feature Angie Alcaráz on flute. Eddie Cano did "Malageña."
EEG: Simon Waronker's name is not on the CD.
JC: It should, as a producer, I think.
EEG: In the CD it says that it was produced by Ray Stanley.
JC: Ooohhh…Ray was one of the A & R men at Liberty. But that was not Ray's idea, what I just told you. Ray Stanley was the producer of "Latin Fever" and "Bongo Fever."
EEG: You did a lot of work with Eddie Cano. What can you tell me about him?
JC: I knew Eddie Cano way before he joined my band. I used to see him play with other bands. I used to come and see him and sit in with him, and when I started my band, I asked him to be my pianist. Also Paul Lopez, Johnny Anderson – a black conga player --, who was marvelous also…
Eddie helped me, because I had no music. Tito Rodriguez had sent me some stocks. You remember what stocks are in music? The song was already arranged – you had all the parts for the horns and everything. In those days, they did that, and they called them stock arrangements. Tito Rodriguez sent me about sixty of them, so I used a lot of those songs for my recordings – they came from that. In those days, the publishers of music would give out these stock arrangements to bands to play them, hoping that the band would record that song.
EEG: Let's talk about the album that you did for Tico Records, "Latin Percussion with Soul."
JC: I was working with my band in Puerto Rico at the El San Juan Hotel. Pancho Cristal, who was the A & R man for Tico, came in. We tore up the island — we did. I only had a small seven-piece group, and he said: "I want to record you, guys." And so I said, "Fine." I went to New York on my way home, and we had a meeting at his office. He hired a guy from New York — you probably know him, Hector Rivera —, we gave him the tunes that we wanted to record, and I went back to Los Angeles. Then, when he was done with the arrangements, he came to Los Angeles to direct — we were quite a big band, probably fourteen people. And, when he got there, he didn't do the songs that he was supposed to arrange, the songs that we gave him. He did songs that he wrote! (LAUGHER) We had a pretty good fight, but he is a marvelous arranger. I have to say this: a marvelous arranger. Maybe the songs that I wanted to do, he didn't think that they were appropriate — I don't know. In any event, that is what happened with him. But he conducted the sessions.
Gerry Woo (the singer) was a very beginner at that particular time. Today she would have sounded different than she did in that album. But he (Hector) arranged everything, and he did very good arrangements. I wanted him to give me a different arrangement for "Watermelon Man." I said, "Give me something completely different, but give it to me like a boogaloo." But he never even arranged it, he did nothing, he ignored the song, and the other songs I gave him.
EEG: So you recorded it in Los Angeles.
JC: Yes, I recorded it in Los Angeles.
EEG: Do you remember the musicians that played at that album?
JC: I remember most of them: Paul Lopez, Jimmy Salco, Tony Durán… The drummer was Pat Rodriguez, who used to work with Tito Rodriguez. The piano player was Eddie Cano. The bass player was from Cuba, used to work with Sonora Matancera, and his name was Humberto Cané. Marcus Caputo was on trumpet.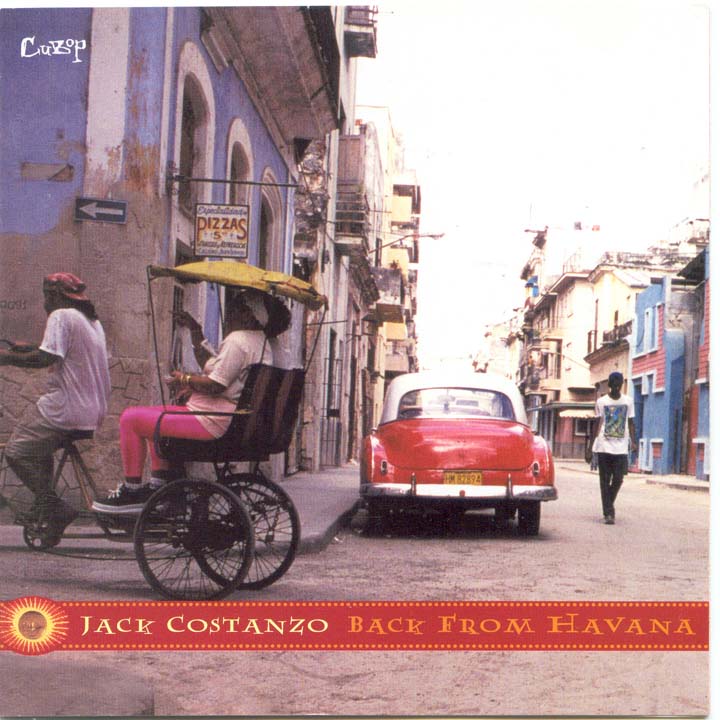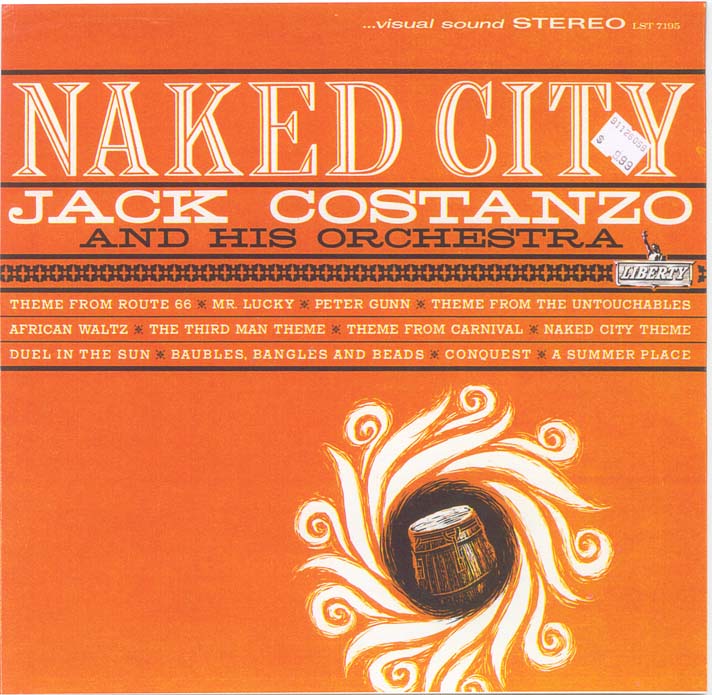 EEG: Did you only do one album for Tico Records?
JC: That's the only album I did for them. Now, I re-recorded one of those songs — "Mantequilla" — on my "Back from Havana" album. That was Hector's song, and I re-recorded that.
EEG: What can you tell me about the album "Naked City"? Unfortunately, the album doesn't include the credits.
JC: Ha! That's one of my very, very good albums. It came out in 1961. I used Chino Pozo on conga drums, Louis Miranda on conga drums, Johnny "La Vaca" Rodriguez — Dandy's father — on timbales, Norma Calderón on triangle, Milt Holland on regular drums and myself on bongos. That was the rhythm section. Norma's father was a drummer for Xavier Cugat for a long time. They played on the tunes "Naked City Theme" and "Theme from Route 66." On "Route 66," I played cowbell. We used four trumpet players: Paul López, Tony Durán, Jimmy Salco, and Shorty Sherock. Tommy Peterson was on the trombone, Tony Reyes on the bass, and Eddie Cano on piano. It's one of my favorite albums.
EEG: Why?
JC: Because it was done so well – it was done very well! Paul López did some of the arrangements; Eddie Cano did some of the arrangements…
EEG: Any stories about the album "Costanzo, Cano and Bongos," that you did for GNP?
JC: Oh, that's a Gene Norman album. All that is, is the same thing as the other ones! That's the same record as the "Afrocuban" record. But Eddie Cano came out and did a tune called "Taste on Honey," and it was becoming a big hit, and he wanted to cash in on Eddie Cano's name. So he put the same record out, and used Eddie Cano's name with mine on the cover. The exact same record! Gene Norman put it out like that, yeah. I was mad at him when I heard about it. It was my record.
EEG: Any other favorite albums?
JC: Oh, Mama mia! My favorite Latin jazz album of all times is "Back from Havana." And it got the best write ups that I ever had! There were fabulous write ups all over the world. So I'm very pleased about that. But I like a lot of my songs. A couple of the albums, I think, were turkeys; but most of them were pretty good.
EEG: I'm a little confused as of how many records did you do as a band leader.
JC: Well, I have had some re-releases. But, including everything, this last one (Back from Havana) is the 24th.
EEG: You recently made a triumphant return to music. How did this come about?
JC: Latin music started to come back, and I got interested again. Like Ernesto Portillo said – he did a write up about me --, "The Latin explosion brought Jack Costanzo back!" (LAUGHER)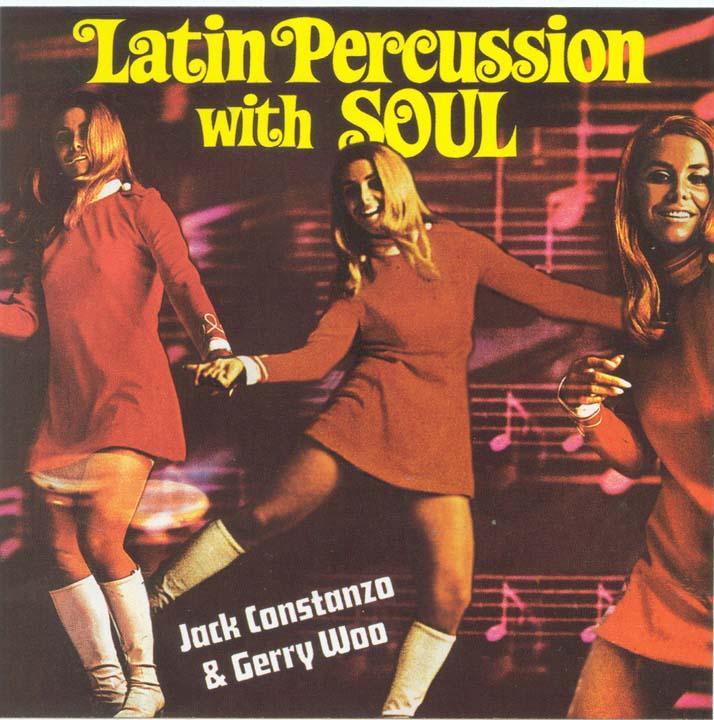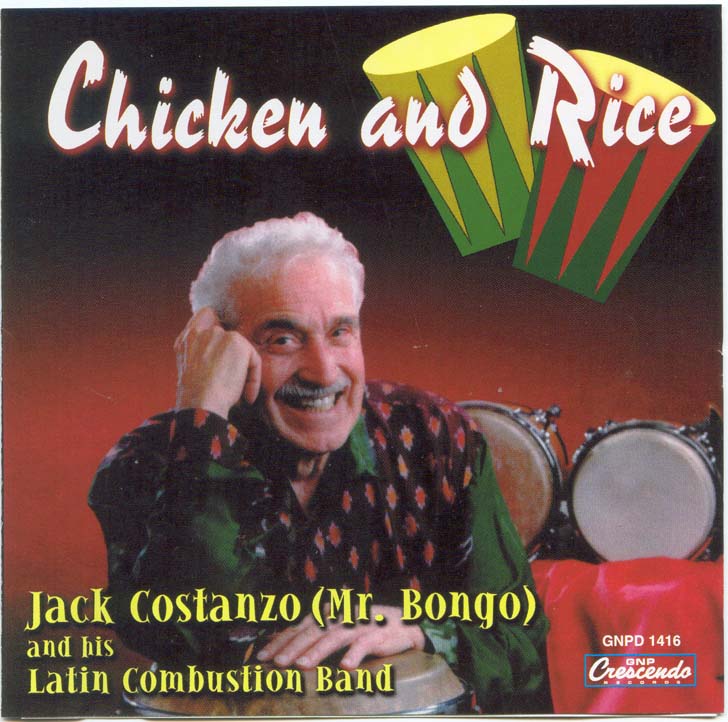 EEG: Cal Tjader called you "the most comfortable bongo and conga drummer he ever played with."
JC: How do you know that?
EEG: Ha! Because I know.
JC: Yeah, he did say that, but I don't remember that. I must have told somebody, and then he wrote it.
EEG: That's a powerful statement. Did you ever play with him?
JC: No. I sat in when he came to San Diego, and I had the time of my life. Loved it! Such marvelous musicians!
EEG: Previous to your recordings with Cubop, you did "Chicken and Rice." How come that CD is so short?
JC: Because we were doing a single — that was the intention. The original plan was just to do four tunes. We put in "Sing, sing, sing," "Chicken and Rice," and "Feeling Alright," the old Joe Coker tune. And then we added "Caravan," which is from an old album, to that, to make it four tunes. Gene Norman and I went in on that CD together. I am surprised that you know about that album! He never did much with it; he put it in the stores and never promoted it.
EGG: Tell me about how you came to record for the Cubop label.
JC: I called Mike McFadin, who is the CEO of Ubiquity — Cubop is their Latin division —, and I said, "I'm going to Havana, Cuba, and, when I come back, I would like to do an album." And he was very interested. I said, "I would like to use Marilu [Murillo] — the lady singer on that album —; I just met her." So he said, "Ok, when you come back, call me and we'll get together."
I went to Havana, and I brought back a record called "Te quiero, te quiero," which a male singer in Cuba had made popular, [written] by Nino Bravo, I think. When I came back from Cuba, I called Mike McFadin, and I told him that I wanted to do this album. And I told him that I would put the songs together, which I did. I asked him to give me Bobby Matos to help me. Bobby Matos belongs to Cubop records, and he records for them. So when we got together with Michael McFadin, he said, "Do you mind if I use Bobby Matos as a producer?" I said, "I certainly don't." And he was the producer, and he was very helpful. That's how we got Bobby Matos involved. We worked on this album very hard. The band was great, the songs were great, and I love it.
The band that I used there is not a band that I ever used before — all San Diego people. It's an all-star band — the cream of the crop here. I used two different piano players: Lynn Willard on the instrumental, and Robert Lanuza on the vocals. I had Mike Holguin on the timbales and drums -- he played both; we overdubbed. He was fabulous. We had a Cuban bass player called Ignacio Arango. Gibert Castellanos and Bill Caballero were on the trumpet, Steve Feierabend on the tenor saxophone, Bob Campbell on the baritone sax, and Marilú doing the singing.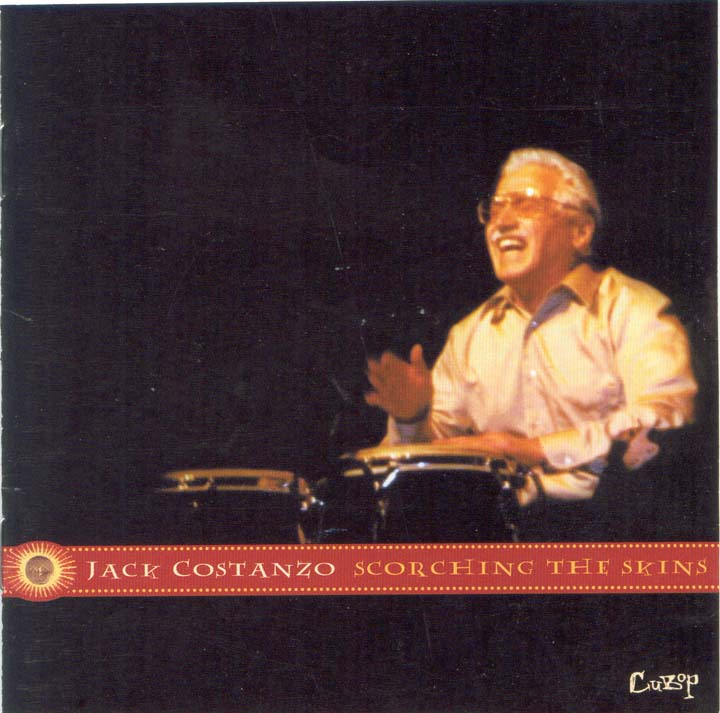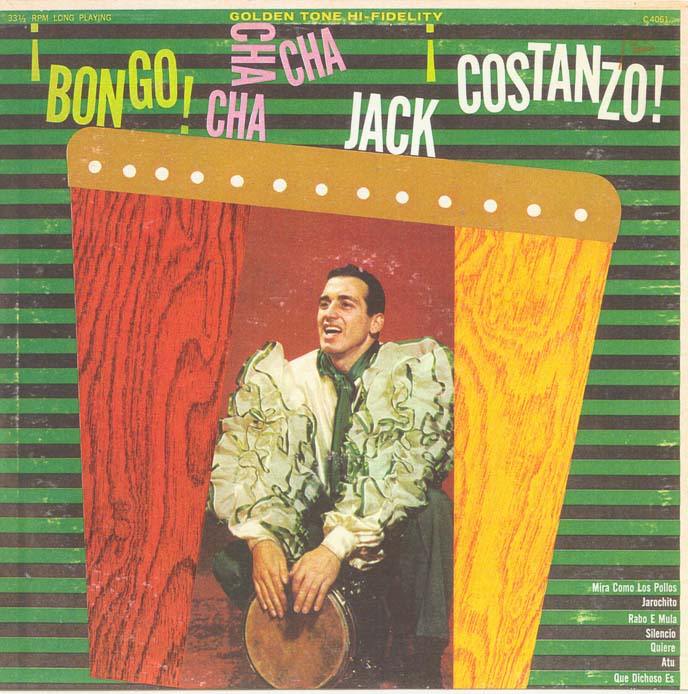 EEG: How did you meet Marilú? (2)
JC: She is from Panamá. Marvelous singer. She was playing with a group here in San Diego, called "Primo," and I heard her. I talked to her, but I didn't offer her a job or anything, because she was with that band. But she quit the band for whatever reasons, and I then hired her to do the records with me. She did "Back from Havana" and "Scorching the Skins" with me.
EEG: Please talk a little bit about "Scorching the Skins," the CD that followed "Back from Havana."
JC: Well, Marilú did "Somos cubanos," which is a Los Van Van song, and Fred Ubaldo arranged it. That came out great! That would not be a popular song, but it is a great song. In other words, it was a musicians' song. I loved it when Los Van Van did it, and I liked the way Marilú did it. She sang her butt off on that song. And then I changed the arrangement of "Bemba Colora."
EEG: Whose idea was to do "Bemba Colora"? It's quite risky to follow Celia Cruz' steps.
JC: I did; all that stuff was my idea. Just like I did on my previous album, where I did a different intro on "Quimbara." I always try to come up with something different, if I can. She (Marilú) did "Bemba Colora" and "La Conexion." On "Somos Cubanos," she wrote a different intro, because she is not Cuban. She wrote an intro that made it possible to use that song.
EEG: Ok, Jack, what happened after you completed that album?
JC: I had an idea of what I wanted to do in another album. I talked to Mike McFadin, of Cubop, and he rejected it. I went and did five songs on my own, a demo. I got the band together and we did it. I paid them much less money, but they were willing to do it. I have the demo. I think I finally got two songs that could hit the charts. Now I have to shop it around and find a record company that I think could give it distribution, promote it, take it, and finish the album. So that's what I'm doing now. I'm very excited with what I did.
EEG: Did Marilú participate in these recordings?
JC: I used four vocals. My daughter, Jill Virginia Costanzo, wrote one song, which is one of the two I think will hit the charts. And a girl named Mary Dolon sang another song, a Janis Joplin tune. Marilú did the same arrangement, but she did it in Spanish. Then I did a rerecording of a song I did many years ago. Included in that one I put down the one that you already heard in "Chicken and Rice," called "Sing, Sing, Sing." That's my song. I own that song.
The songs that I got, I'm not telling anybody about these two songs, because I don't want somebody to steal my idea. Years ago, I had an idea, and guy at Liberty Records turned it down. He left Liberty after turning my idea down, and did it for another company. It became a number one hit in this country. A number one hit! I died! So I don't trust anybody anymore.
EEG: What are you plans for the future?
JC: I just got an agent that's going to represent me. Maybe he can get us a tour some time — see if the CD does well. We are getting extremely good reviews all over the world. If something happens, then I'll go along with it. If it doesn't, it's okay – I'm glad for the excitement of trying now.
EEG: Any final words?
JC: I'm thrilled with what is happening with my record "Back from Havana." I'm thrilled with what is happening with it. I hope it sells a million. But, if it doesn't, the excitement of trying to get to that point, has kept me really enthusiastic. (3)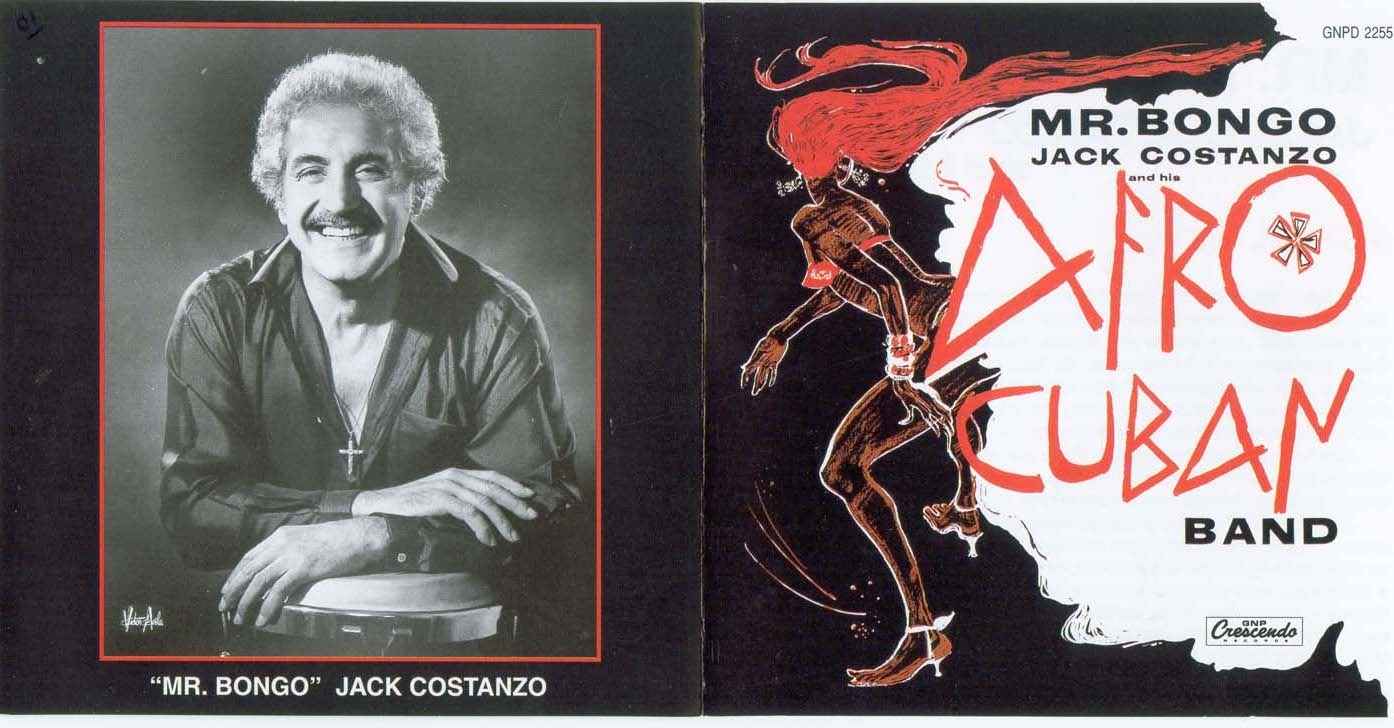 NOTES:
1. According to Jack, Kascara, whose real name was Manuel Ochoa, used the "K" in his name, so that he would not be mistaken for Cuban artist Cascarita (Orlando Guerra)
2. An interview of Marilu can be found at:
http://www.herencialatina.com/EricG/marilu.htm
3. By the time the original interview was conducted, Costanzo has not yet released "Scorching the Skins," his follow-up album to "Back from Havana."
DISCOGRAPHY:
The following Jack Costanzo discography was provided by Ron Moore. I have to stress that it's hard to get a good, straight-forward discography by this artist, because some of his albums have been re-issued under different names, like some of his GNP Crescendo records. I made some modifications and corrections, as some of these albums were released as CDs after the list was given to me. In addition, some of these albums were released in two versions: mono and stereo. In the Liberty label, for example, the catalogue number for stereo was LST and the one for mono was LRP. Some of these titles may only include the mono version.
2003 Latin Fever (Capitol) CD; Reissue of Liberty 7020
2002 Scorching the Skins (Cubop, CBCD037) CD
2001 Back from Havana (Cubop, CBCD028) CD
2000 Chicken and Rice (GNP/Crescendo, GNPd-1416) CD
1998 Compilation of Mr. Bongo (GNP/Crescendo, GNP-2255) CD GNP 19 and GNP 2057
1993 Mr. Bongo Plays Cha Cha Cha (Palladium, PCD-163) CD, Reissue of Tops, L1564
1968 Latin Percussion with Soul (Tico, SLP-1177) 12", CD
1962 Costanzo plus Tubbs, Equation in Rhythm (680 981TL, TLF 5190) 12"
1962 Bongo Fever (Sunset, SUM-1134) 12", Compilation of Latin Fever and Bongo Fever
1961 Naked City (Liberty, LST-7195) 12" Stereo
1960 Learn-Play Bongos (Liberty, LRP-3137) 12" Mono
1960 Afro Can Can (Liberty, LST-7137) 12" Stereo
1959 Bongo Fever (Liberty, LST-7109) 12" Stereo
1958 Latin Fever (Liberty, LST-7020) 12"
1957 Mr. Bongo Plays Hi-Fi Cha Cha (Tops, L1564) 12"
1957 Bongo Cha Cha Cha (Golden Tone, C4061) 12" Taken from Tops L1564
1957 Afro-cubano (Verve, MGV-8157) 12", Reissue of MGN 1067
1956 Afro-cubano (Norman, MGN-1067) 12"; Reissue of MGN 32
1955 Mr. Bongo (Palladium, PLP-126) 12", Reissue of GNP 19
1955 Mr. Bongo (Gene Norman, GNP-19) 12"
1955 Costanzo, Cano & Bongos (Gene Norman, GNP-90) 12", Reissue of GNP 19
1954 Afro-cubano (Norgan, MGN-32) 10''
195? Viva Tirado (Gene Norman, GNP-2057) 12"
195? Mr. Bongo has Brass (Zephyr, ZP-120036) 12"

The following are some recordings in which Jack Costanzo participated. This is only a sample, and not a complete list. It was taken from: http://www.rhythmweb.com/bongo/jack.htm
JACK COSTANZO- DISCOGRAPHY
(working project)
Compiled by Trevor Salloum and Zeno Okeanos
Nat King Cole:
Bop Kick-Capitol
The Best Of The Nat King Cole Trio/The Instumental Classics, Capitol Jazz
CDP-7-98288-2 Stan Kenton:
One Night Stand with Stan Kenton
Frances Fay:
Caught in the Act- Crescendo
Howard Rumsey:
Howard Rumsey's Lighthouse All-Stars, Vol.3,('52,'53,&'55) Contemporary C3508
Eddie Cano & Jack Costanzo with Tony Martinez and his Orchestra GNP 44
Although not credited Jack is the Bongo drummer on several early GNP
Recordings by Rene Touzet.
Ultra Lounge Series- Capitol (Selected songs with Jack Costanzo)
Edición de febrero - marzo de 2006
Derechos Reservados de Autor
Herencia Latina
© El copyright del artículo pertenece a su autor y a Herencia Latina. Puede ser enlazado o reproducido electrónicamente para fines docentes, sin alteraciones e indicando su procedencia. Para su reproducción en publicaciones impresas, debe solicitarse la correspondiente autorización a los autores y citar la dirección electrónica de la revista (http://www.herencialatina.com)