Andy Gonzalez. The Legacy of a Bass Innovator
by Nelson Rodriguez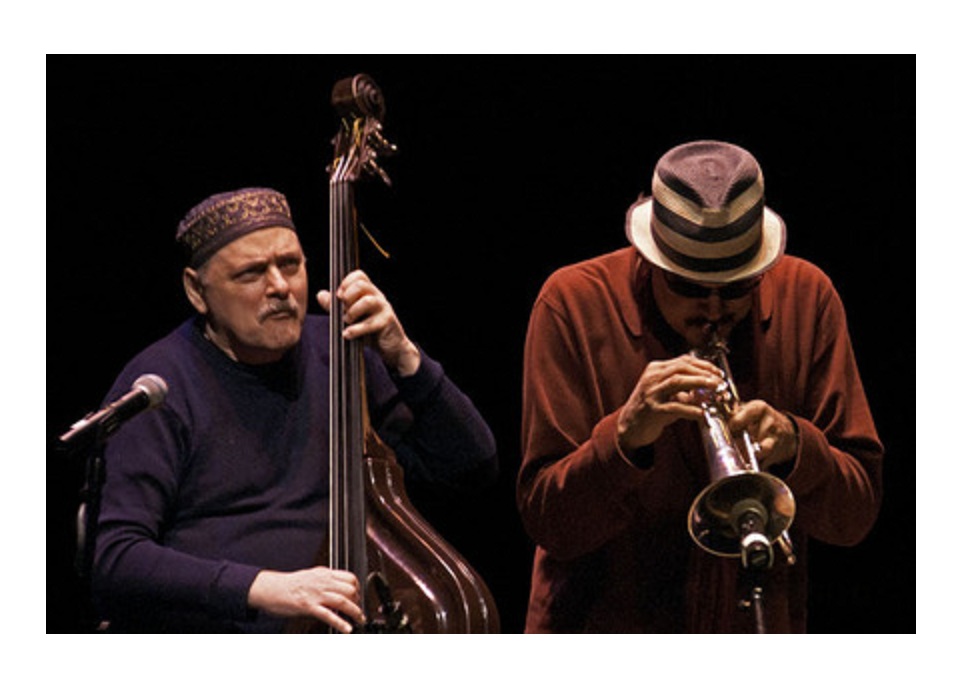 Andy and Jerry Gonzalez
Foto de JazzTime
If the name Andy Gonzalez appeared in the dictionary the meaning would probably have something along the lines…'master of bassology 101'. I know bassology is not a word but in Andy's case we are making it a new terminology where only Andy rules.
One of my fondest memories as a young Disco/Oldies/Latin music DJ in the early 80's, that would forever change my life and make me an avid record collector of Latin music, was a visit to Andy's house at 1963 Gildersleeve Avenue in the Bronx. That was my first exposure to a record collectors den neatly set-up with Jazz recordings on one side and Latin on the other and the rare Cuban and New York scene 10-inch-78 RPM's (the way singles were promoted since the creation of vinyl later replaced by the 7-inch 45 RPM). But what was more impressive to me and always stood imbedded in me was the words Andy shared with us 'puppies' that day.
He spoke about the importance of studying the roots of the music in order to truly understand the modern music of the time and for the past four decades that remains a big factor ignored by both musicians and vocalists. This trend of musicians not being true to themselves and their craft and the pioneers that came before them has led to many a failed career.
Andy spoke about the new wave of labels (and in particular Fania who had Ismael Miranda from Harlow, Hector Lavoe from Willie Colon, Pete 'El Conde' Rodriguez from Pacheco, Ismale Miranda from Palmieri, etc.) attempts to pull the vocalist from the hot bands to produce them as solo acts and what vocalist would not want that. Well, if you payed your dues then by all means but if you did not the path would result in music that was not the quality of what was being produced up until that time. Andy spoke about this way before the 80's boom of vocalists and Salsa Romantica with vocalists like Eddie Santiago, Jerry Rivera, Luis Enrique and Willie Gonzalez. Years later after that visit to his house I never did ask Andy about this new 80's trend of vocalists as band leaders (no musicians in the lead role) out of fear of what he would say or do to me. I actually felt the same as every true musician of that time period who was frustrated in seeing limited talented vocalists (many with no experience prior to their debuts) at the forefront of bands with no historical knowledge of the music.
The labels of the 8o's such as TH Records, who I worked for as Northeast Representative, for ten years, doing all the promotions and visiting store/distributor outlets (these are the places where I learned and built my collection) as well as clubs, had become wizards at promoting and marketing the young vocalists (many who were just faces with little vocal talent). The musicians had become second fiddle to the star vocalist on the LP covers. Back in the 60's through the late 70's dancers and fans identified with the entire band and the musicians. In the 80's that all changed and the musicians on almost all the LP's that were being credited were the studio musicians that recorded the LP/CD (the CD was introduced to Salsa in 1986). "It was easy for fans to associate to the vocalist than to the musical style of a particular musician's trumpet, piano or conga", Andy has been quoted back then. Over the 80's & 90's the musicians got lost…forgotten. During these same decades we saw several of these musicians branch out to record on their own and in particular Latin Jazz to be able to express their voice. Names like Jimmy Bosch, Charlie Sepulveda, Papo Vazquez, Humberto Ramirez, Giovanni Hidalgo and by the 2000's many more joined the new movement.
In the late 70's Andy was talking about this trend that was starting and in the 80's through the 90's the trend became a full-fledged reality. Because of that era of 'sensual salsa' on the commercial airwaves old school musicians were afraid to record because radio would not play them. Some of the veteran musicians who chose to record stood true to their values despite not getting the commercial airplay and others bent and went the romantic way to be able to sell. Mario Ortiz was one of the main old school musicians who went romantic in his comeback and did see results in his sales as did others. Tommy Olivencia, Puerto Rican Power, Andy Montanez and Pedro Conga were also old schoolers who chose the new wave of the 80's.
Andy Gonzalez remained a true old school musician that would not bend to the commercialism and developed into one of the greatest in our history of music not only in classic Salsa recordings but also the Latin Jazz world. While he never became a full time producer he certainly had the talent and schooling for it. Rumba Club, out of Washington, DC is the perfect example of Andy's producing talents. Their 1995 debut, "Desde La Capital" was followed by three other CD's: "Mamacita", Espiritista", and "RadioMundo".
It was during this period when he began to perform with the Chico O'Farrill Afro Cuban Jazz Orchestra and by the late 2000's with Chico's son Arturo who heading the big band.
Born in Manhattan on January 1, 1951 (a birthday he shares with the great Manny Oquendo), but raised in the Bronx, Andy and his brother Jerry began their formal music training at the High School of Music & Art where they studied mostly classical harmony, theory and orchestration. Music was something that was already in their blood as their father, Gerardo, was an accomplished vocalist for Augie Melendez y su Combo which was a Bronx based band ala Playa Sextet.
A thirteen year old Andy and a fourteen year old Jerry formed their first band, The Latin Jazz Quintet, with pianist Llemellen Matthews (who later moved to Los Angeles to become the musical director for Nancy Wilson's band), vibist Andy Langston and timbalero Arnold Saunders. Matthews became the first person to show the Gonzalez brothers what it took to be a professional musician through discipline. Something that has stayed with them throughout their careers.
Andy has had many influences but his early ones were Cal T'Jader as well as Tito Puente, Machito and Cortijo y su Combo with Ismael Rivera. His first recording at age sixteen was with Mongo Santamaria's son Monguito Santamaria in 1967 titled "On Top". That band that recorded with Monguito was one of the hippest young bands of the time (the proof is in the recordings).
The brothers became students of old recordings and learned from them by his senior year of high school in 1969 Andy was already a member of the Ray Barretto band (on the LPs'Power' and 'Together') but his thirst for knowledge landed him in the Eddie Palmieri band through Manny Oquendo. Andy was with Palmieri in Palmieri's peak years and the recordings "Live In Sing Sing", "Live at The University of Puerto Rico", three tracks on "Unfinished Masterpiece" and "Sentido". That was the band that had Barry Rogers, Mario Rivera, Alfredo 'Chocolate' Armenteros, Manny Oquendo, Victor Paz, Jose Rodriguez and many others. During that peak was when Andy left Eddie
The Gonzalez home over the years had become the focal point for many jam sessions and rumberos. A group of friends was formed from these sessions and friendships that have lasted to this day. Tresero Nelson Gonzalez was a constant student of the 'jibaro' guitar in Puerto Rico, pianist Oscar Hernandez who would make a name for himself with the Ray Barretto band and today Spanish Harlem Orchestra, percussionist gene Golden, bassist Joe Santiago, timbalero Nicky Marrero (who replaced Orestes Vilato in the Fania all Stars and Tipica 73), and percussionist Charlie Santiago (who was in huge demand in every great charanga band in New York before relocating to Florida). Other frequent visitors to these jams included Milton Cardona (of Willie Colon/hector Lavoe fame) and percussionist Frankie Rodriguez. Each musician would bring their own flavor to these rumbas along with Andy & Jerry's love for Blues & Jazz.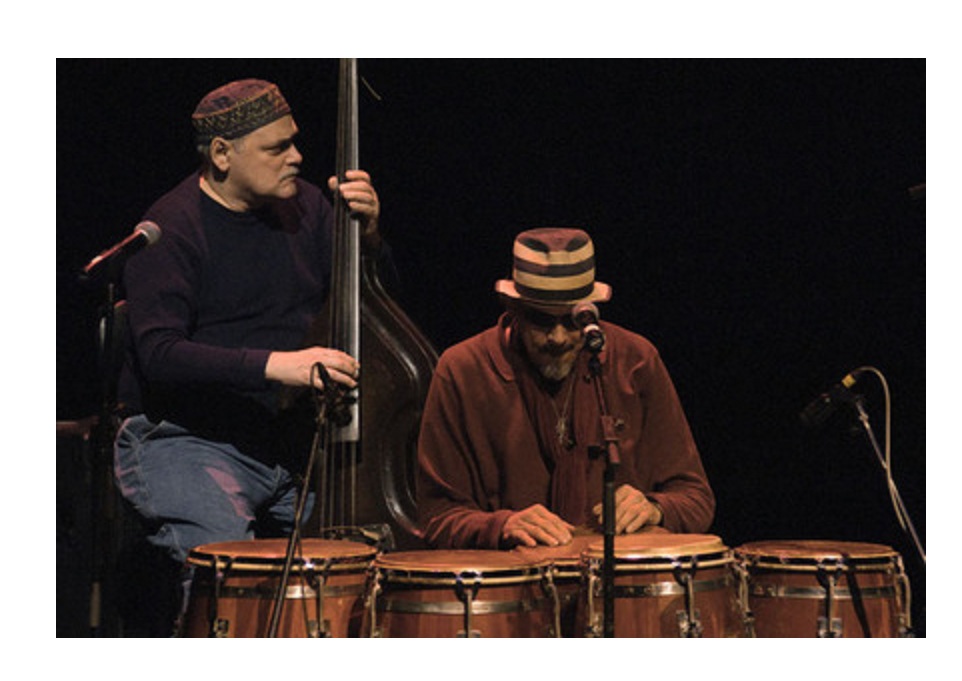 Andy and Jerry Gonzalez
Foto de JazzTime
In 1974 Andy & Jerry form Conjunto Anabacoa with the classic tune "Anabacoa" as their anthem with the help of their friends Nelson Gonzalez, 'Chocolate', Frankie Rodriguez, and Rene Lopez on vocals. Rene who was also a musicologist would later in 1975 decide that the group needed to record. With the help of Rene and Andy Kauffman, who managed Club Birdland, these jam sessions at the Gonzalez house would evolve into the 1975 project Grupo Folklorico y Experimental Nuevayorquino that also incorporated into the ranks Manny Oquendo, Virgilio Marti, Jose Rodriguez, Reinaldo Jorge, Don Gonzalo Fernandez, Alfredo de La Fe, Bobby Paunetto, Julito Collazo and the vocalists Willie Garcia and Heny Alvarez amongst others. During that project, in 1974, you had the initial development of Conjunto Libre that became a reality when Andy & Manny returned from a gig in Puerto Rico with the famous band they were with at the time looking for that 'free' form of music they truly enjoyed performing. They wanted a band that not only would be able to record that 'free' form style of music unlike what other bands were doing but also be 'free' from the commercial labels and what the commercial radio stations were playing. In a nut shell Libre combined the traditional styles of the Caribbean (Cuba & Puerto Rico) with jazz elements making them unique and unlike any other band of that time and has not been seen today.
They were progressive and never sold out to commercialism! They became an institution with Manny at the helm and Andy as musical director. Libre rehearsed at the same Gonzalez home basement and made their debut at John Jay College, in Manhattan, on October 22, 1974. The first members were Oscar Hernandez, Barry Rogers, Milton Cardona, Mario Rivera, Jerry Gonzalez and vocalist Willie Garcia.
It was the beginning of a new generation of rumberos, mostly of Puerto Rican descant, with a New York attitude and a debut LP, "Con Salsa, Con Ritmo, Vol.1" that united the talents of Latin & Jazz musicians. You now had Andy, Manny, Barry, Jerry, Oscar, Milton, Jose Rodriguez, Gene Golden joined by Dave Valentin, Vincent George, Ronnie Cuber, Ed Byrne, Nestor Sanchez, Felo Barrios, Hector 'Tempo' Alomar, Mike Lawrence, and Papo Vazquez.
To be a part of Libre meant being a true no nonsense professional in your craft as a musician or vocalist. It showed in their recordings as well as their performances. On any given night they can blow any band off stage as I witnessed so many times during the 80's. Who can ever forget the hits "Que Humanidad" (with the great voice of Herman Olivera), "Lamento Borincano", "Suavecito", "No Me Heche La Culpa", "Elena Elena", "Bamboleate", "Saoco", "No Critiques", "I Want You", "Donna Lee/A Gozar y Bailar", "Yo No Vuelvo Contigo, "Decidete", "Lo Que Se Da No Se Quita", "Goza La Vida", "Alabanciosa", "Little Sunflower", "Llora Timbero", "Porque Tu Sufres" and "Estoy Como Nunca".
The alumni list include Alfredo Rodriguez, Dan Reagan, Jimmy Bosch, Nestor Torres, Jorge Maldonado, George Delgado, Joe Mannozzi, Willie Rodriguez, Arturo Velasco, Norman Hogue, Steve Turre and Tony "Pupy" Torres amongst others.
Mayor labels have always had problems in signing recordings and/or acts that did not represent commercial success to them but in theory the labels could have signed Libre and make it work at radio…they had the power. Labels just chose to go the way of the inexperienced young vocalist instead of dealing with seasoned veterans. In the same way Andy & Manny chose not to deal with these labels or radio stations and still became a musical 'university' worldwide.
Andy had not only become a master of the 'tipico' sound but his and Jerry's love for Jazz was about to blossom in the late 70's. Andy became musical director at the Nuyorican Village (one of the few places giving Latin Jazz performers exposure in the late 70's). He performed with the best of the best and continued to expand his legacy not only in the Afro Caribbean world but the Latin Jazz scene. The Nuyorican Village presented "an excellent marriage of Jazz and Latin having their roots in Africa", Andy would add.
The Latin Jazz movement went to Soundscape, on Tuesday's and Thursday's, that lasted until 1984. Two of my favorite recordings are "Live From Soundscape: Latin New York 1980-83" and "Live from Soundscape: Latin Jazz". Those performances at Soundscape would be the launching stage for what would become one of the most influential Latin Jazz bands of all time….The Fort Apache Band.
In 1980 the formation of the band set new standards in Latin Jazz worldwide. Both Andy and Jerry's (especially on the horn) skills would grow to new levels. The band followed Jerry's 1979 acclaimed debut "Ya Yo Me Cure" and the first Fort Apache Band ensemble members were pianist Kenny Kirkland, saxophonist Sonny Fortune, Nicky Marrero, Milton Cardona, Papo Vazquez and Jorge Dalto. "The River Is Deep" in 1982 was recorded live in Berlin as was the 1988 "Obatala" in Zurich and were both excellent introductions to FAB but it was the third recording, "Rumba Para Monk", that put them on the map within the Jazz community. The 15 member band later became a sextet with Larry Willis on piano, Joe Ford & Carter Jefferson on saxophones and Steve Berrios on drums.
Andy has been in the industry for close to 50 years and even closer to 1000 recordings and has played and/or recorded with the best. Just to name a few you have Dizzy Gillespie, Tito Puente's Golden Latin Jazz All Stars, McCoy Tyner, Machito, Hilton Ruiz, Steve Turre, Conrad Herwig, Bebo Valdes, Cortijo, the Conga Kings, Charlie Sepulveda, Herbie Hancock, The Salsoul Orchestra, Jimmy Bosch, Jorge Dalto, George Benson, Daniel Ponce, Ruben Blades, Papo Vazquez, and Deep Rumba.
As a bass player Andy was always fond of Cachao & Bobby Rodriguez as his primary influences but he was also a huge fan of a wide range of bassists like Ron Carter (Miles Davis Quartet), Scott La Faro (Bill Evans Trio), Charles Mingus, Eddie Gomez, and Jaco Pastorius.
Due to serious health issues with diabetes Andy was sidelined in 2004 but did come back on the scene while continuing on dialysis.
Andy had been talking about a solo project before the year 2000. A project that would include only strings: bass, tres, guitar, cuatro, violin, percussion and no metals that was to be titled "Strings Attached". Now some 16 years later that project has been released and it was worth the wait.
Re-titled "Entre Colegas" the man who will go down in history as one of the best bass players of our times finally debuts. This solo project is a testament to the genius of Andy Gonzalez as once again he goes against the grain and produces a CD reminiscent of his early roots in the Bronx. It's a string based recording that should earn the recording some awards by years end and be a Grammy contender.
From the opener, "Vieques", a beautiful Bomba, first recorded on Arturo O'Farrill's "Live In Brooklyn", Andy who composed the track sets the president on bass as well as band members.
"Ode To Joy", inspired from the version jazz great George Duke arranged from the Gospel version performed at the end of the Woopie Goldberg movie "Sister Act 2" became one of my favorites with superb solos by Ben Lapidus , Carlos Abadie (an up and coming Jazz trumpeter), pianist Zaccai Curtis and lastly Andy himself.
"Inspiracion De Cachao" takes us back to Cuba during the Cuban Jam Sessions of the 50's.
"Dialysis Blues" reflects what Andy has been feeling at his treatment sessions. Throughout these recordings Andy was in pain and had trouble with his fingers.
"A Flower Is A Lonesome Thing", the Billy Strayhorn classic, highlights trumpeter Abadie and the Curtis Brothers (Luques & Zaccai) who have been creating trend setting music on their own for several years now.
"The Addams family" is a showcase for the bass artistry of Andy and Luques (who is on everyone's recording wish list) of one of the funkiest sitcoms of the 60's.
What makes this CD one of the best of 2016 is the chemistry and talents of Andy's longtime friends Nelson Gonzalez, Nicky Marrero & Charlie Santiago with the veterans Ben Lapidus, Vincent George & David Oquendo with the young bloods to Latin Carlos Abadie, the Curtis Brothers, Ricky Salas and Manuel Carro.
If I had the money I would set up a marketing campaign for Andy throughout the US, Latin America and Europe to promote and honor the man for his contribution to this great music that you do not get in any other genre….creative, innovative and historical…the legacy of Andy Gonzalez.
DERECHOS RESERVADOS DE AUTOR
EDICION JUNIO-JULIO 2016